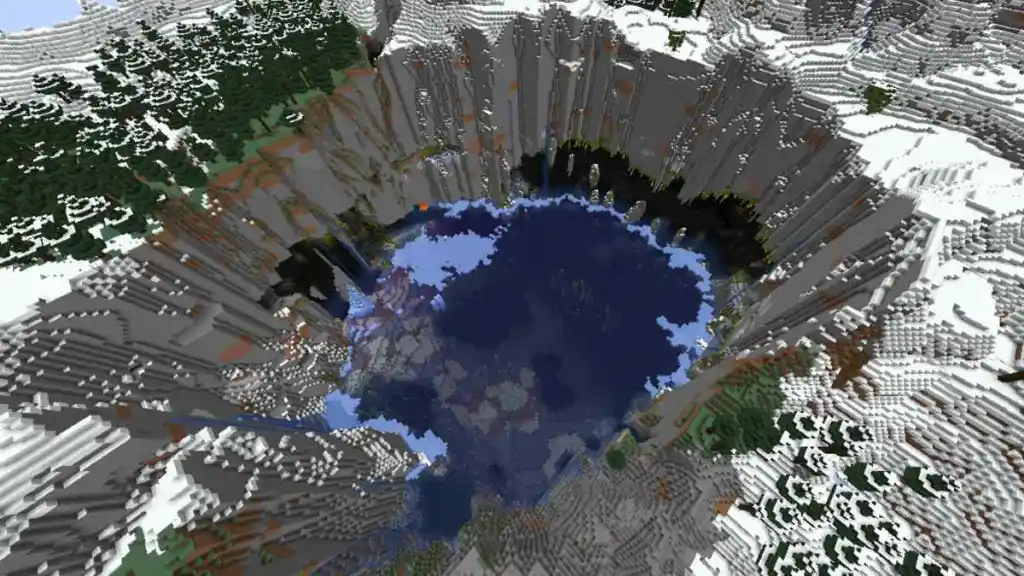 Looking for the best Minecraft 1.19 Bedrock seeds to explore in February 2023? You've come to the right place; here are the ideal seeds for you.
Best 9 Minecraft 1.19 Bedrock seeds February 2023 (Windows, Nintendo, Xbox)
Biome Valley
Seed: 6346334364994434137
Key Locations
Village: 168 -328
Half Ring Hills/Ancient City: 536 136
Village: 775 -184
Village: -152 -392
Nether Portal: 344 -312
This seed spawns you in a vast valley with a diverse biome and climate on the valley's edge. A half-ring of mountains with a massive ravine can be found in the center.
King of The Crater
Seed: 4284333691774547722
Key Locations
Plains Village: 88 72
Pillager Outpost: 216 200
Mansion: 104 152
Ancient City: -152 -51 152
Ruined Portal: 56 88
The first thing you see when you spawn is a ring of white, jagged peaks that form a large crater. Inside the crater, players will find a Plains Village and a Woodland Mansion, both of which are nicely covered with thick plants. Not only that, but behind the Mansion there is also a Pillager Outpost.
Key Locations
Outpost w/ Mansion: 488 -712
Ancient City: 552 -51 -584
Outpost w/ Village: 216 328
Outpost: -744 -712
With this seed, you will spawn close to three Pillager Outposts. Near each Outpost are a number of other structures. The rest of the map is full of rare structures, and all biomes are within a few thousand blocks of each other.
Structure Cluster Spawn
Seed: 3546842701776989958
Key Locations
The Clash: 205 155
Jungle Temple: 616 -318
Desert Temple: -152 808
Ocean Monument: -216 -792
Most climate combinations can be found within 1,000 blocks of spawn, and there is a group of five different structures near spawn. There is an Outpost, a Desert Village, a Shipwreck, a Nether Portal, and a Desert Temple all in the way.
The Bedrock King
Seed: 1663935988
Key Locations
Woodland Mansion: 264 616
Pillager Outpost: -792 504
Village: -936 760
Village/Stronghold: 824 1320
Ocean Monument: 1256 152
You spawn 500 blocks from the Woodland Mansion. After clearing it out, you'll be able to explore the surrounding landscape, where you'll find nearly every biome and overworld structure within 2,000 blocks of spawn. This seed is ideal for those who want to jump right into adventure.
The Lush Cave of Coral Lake
Seed: 599282705
Key Locations
Coralush Cave: North of spawn (negative Y)
Coral Biome: -184 -22
Large Ruin (Cluster): -600 72
Shipwreck: -648 -200
Village: 800 240
If Minecraft had an Oasis biome, we think it would look like this. You start in a Badlands/Desert biome, and a few dozen blocks away is a Lush Cave that is built into a Badlands Mountain Cliff and looks out over a small but beautiful Coral Reef lake. A much bigger Coral Reef biome can be found nearby.
The Lush Taiga Pit
Seed: 340883181811974
Key Locations
The Lush Cave Pit: Spawn
Village: -440 -200
Village: -728 264
Outpost: -920 520
Ancient City: 120 -51 120
You spawn in a Taiga biome of moderate size, directly next to a sinkhole/pit with an exposed Lush Cave at the bottom. This seed also comes with a plethora of biomes and structures.
The Ultimate Beginner Island
| Key Java Locations | Key Bedrock Locations |
| --- | --- |
| Jungle Temple: -152 40 | Ancient City: 184 -51 104 |
| Ancient City: 216 -51 136 | Shipwreck: -232 -120 |
| Ocean Monument: -264 -712 | Village: -904 -424 |
| Village: -944 48 | Ocean Monument: -200 -776 |
| Village: -1312 272 | Shipwreck: 168 -344 |
You begin on the edge of a large jungle island with a monstrous mountain in the center. A layered, lush cave is hidden beneath the jungle for you to make your underground home.
The View from 1.19
Seed: 5147723731320877628
Key Locations
Cluster of Ancient Cities: Southwest (-X, +Y) of spawn
Badlands: -540 190
Mangrove Swamp: 750 -1800
Village: -432 -70
Village: -768 -704
This seed places you in the Stony Peaks biome, which overlooks dozens of biomes, a plethora of structures, and breathtaking views. If you're looking for the perfect map to play or create a one-of-a-kind adventure, you've come to the right place.