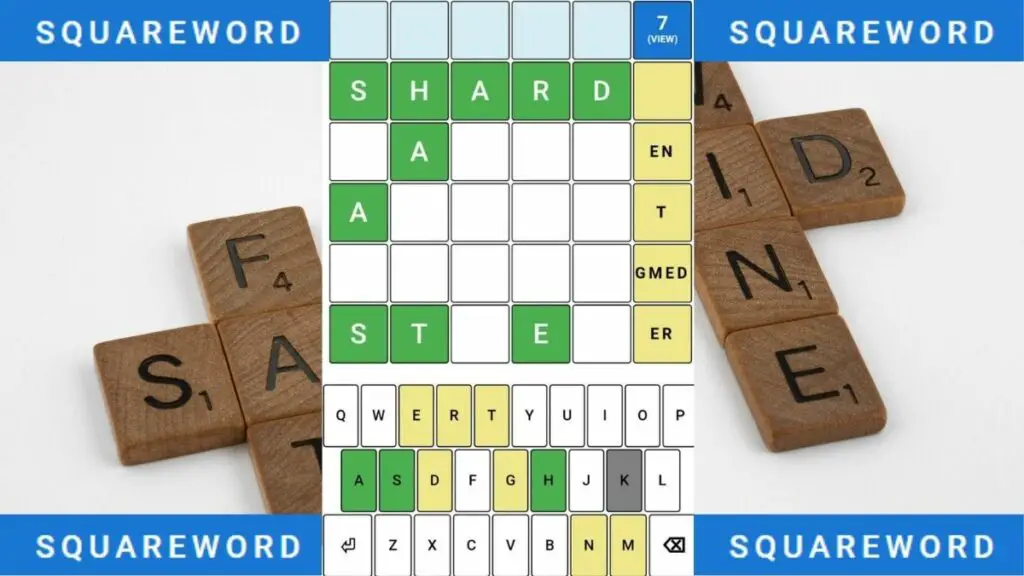 Looking for Squareword wordle? If you have already hooked on wordle, this alternative wordle game is a new trending wordle game at this moment. We are going to explain to you what the squareword consists of, how to download it and why play the square wordle. You have this free online wordle game available if you want to try it, we think you'll love it!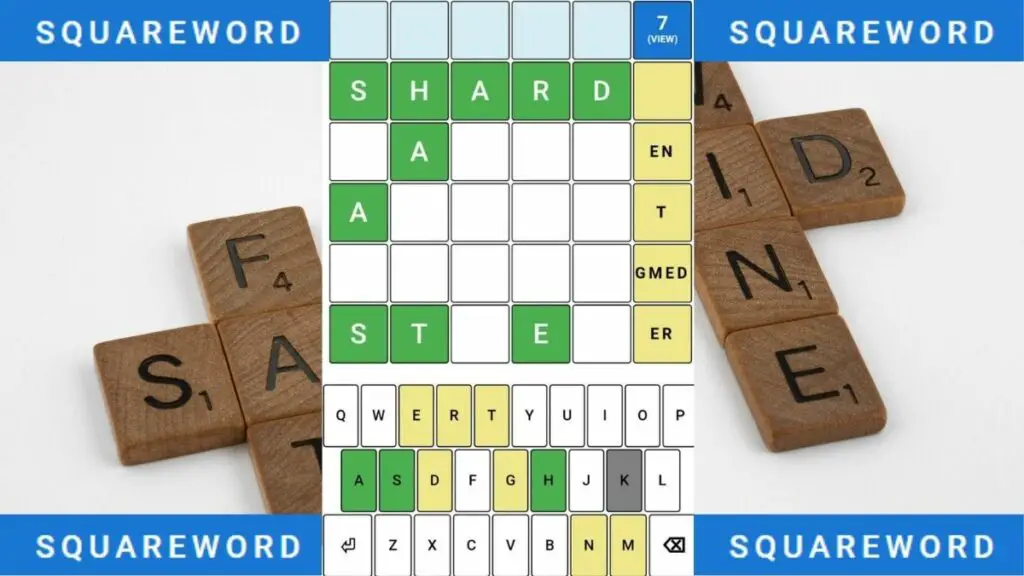 Squareword is a daily word game in two dimensions with the same objective as wordle but it has different mode game. We have tried it and we assure you that it is a very addictive game because all days you will have a new challenge to solve it. Keep reading because we are going to explain everything you can do with square wordle.
Square word wordle
The game is very simple. It consists of guessing valid five letter words to uncover the square of words. If you get it, square word wordle shows you in which attempt you have solved it. Then it gives you the option to share it on your social networks. It can only be played once a day in daily mode or infinite in random mode.
Squareword is a variant of Wordle by Josh Wardle and is one of three sibling sites. A daily word game in two dimensions every day.
👉 How to play square word
This word puzzle that has gone viral thanks to its simplicity, and the fact that you only have 15 attempts to solve its challenge (the same for all players). If the user solves the word, they will not have the option to play again until next daily word. A success from our point of view, since it is presented as an addictive challenge.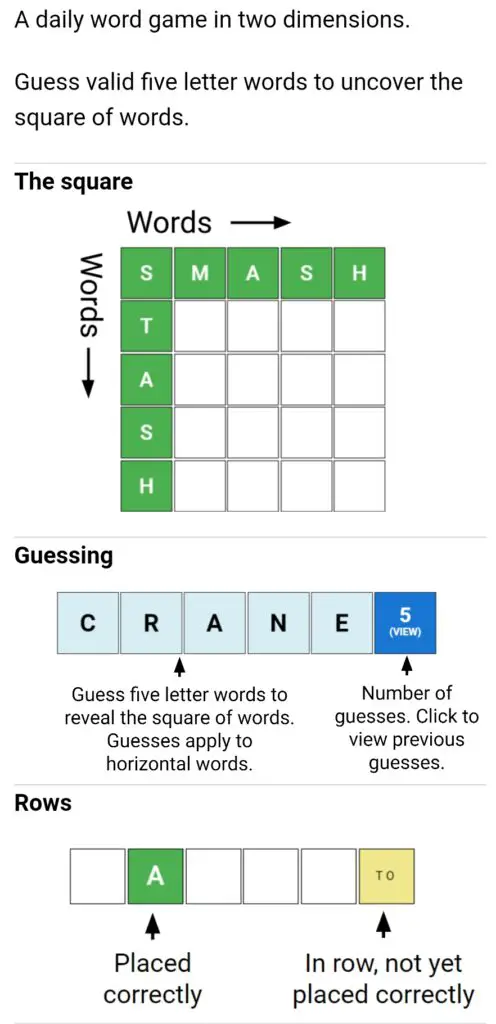 Square wordle Rules:
Guess the hidden word in 15 tries or more.
Each try must be a valid 5-letter word.
After each try the color of the letters changes to show how close you are to hitting the word.
There are ten secret words.
You must solve all horizontal and vertical words from the square box.
It's the same challenge for everyone.
The game allows you to share the results on social networks, illustrating the sequence of attempts with the colors, but without revealing the letters, so that it increases the intrigue and curiosity to try to reveal the word to which you have been challenged by each other. guess the word before.
Examples to play squareword
When you write your 5-letter word, in each attempt it will tell you what letters exist in the searched word and if it is in the correct position it will turn green and if it exists but it is not in the correct position it will turn yellow.
⬜ Not yet guessed
🟩 All placed correctly
🟨 Unplaced letters left
⬛ Not in square
✅ Statistics in squareword
To play it you do not need to download it, you can play online and the game to see your statistics in the icon above where you can see:
This is an example when you solve squareword.org 103: 18 guesses
🟩🟨🟩🟨🟩
🟨🟩🟧🟧🟨
🟩🟥🟨🟥🟥
🟧🟧🟧🟧🟨
🟩🟩🟥🟩🟩
🟥<6:🟩 <11:🟨 <16:🟧 more:🟥#squareword #squareword103
The colors indicate how many word guesses were required to reveal the letter at that position in the square. For example, a green square shows that you needed less than 6 guesses to uncover this letter.
▶️ Play squareword wordle
The version of wordle has not been adapted to several languages, so we leave you how to download squareword or if you prefer you can play online. ¿Do you want to play Square word game?
Frequently asked questions (F.A.Q.)
What is squareword wordle?
Squareword game is a variant of Wordle and is one of three sibling sites. A daily word game in two dimensions. Guess valid five letter words to uncover the square of words.
How to play squareword wordle?
The purpose of the game is to guess 10 mysterious five-letter words at same time. With each try, the colored blocks change to show how close you are to guessing the word. They share no letters in common. You get 15 tries to guess the daily challenge, but you can solve in more attempts and it will be saved in your statistics.
Can squareword be played more than once a day?
You only can play one a day in squareword but if you want to play unlimited squareword mode, you can try incognito mode in your browser.