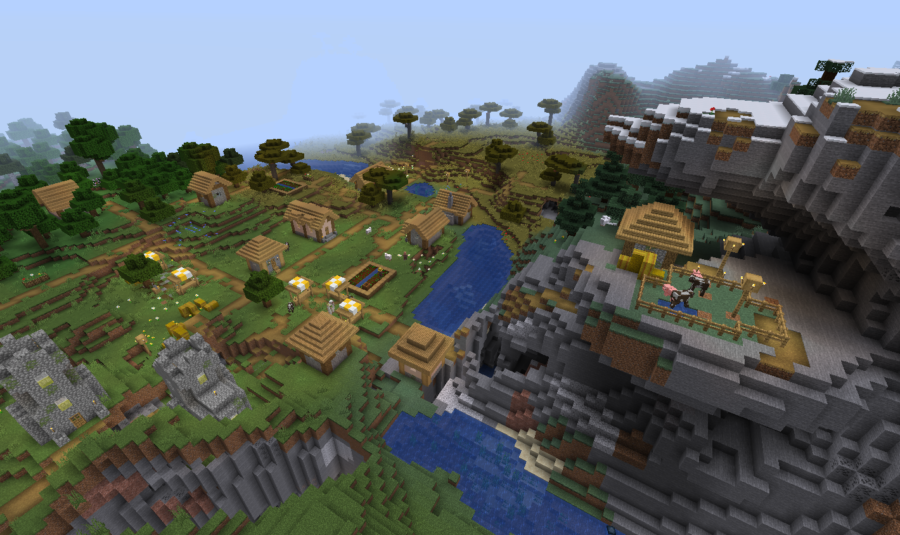 What Is the best Minecraft Village Seeds ?
A seed is a randomly generated number that represents a specific world that was created when you started a new Minecraft game. This seed can be used by other players to play in the exact world you are playing!
How-To Use Minecraft Seeds
Using Seeds in Minecraft is relatively simple and the process is largely the same on all versions of the game. When you are creating a new world, look for the "Other world options …" area or in some cases you will only find an empty text box where you can paste your seed code into.
When you find this box, paste the specific seed you want to download into it and you're done! The more complex part, is that some seeds do not work for some versions of the game. For example, all positive seeds (numbers without a – at the beginning of them) are usable from Bedrock to Java. Furthermore, if you have a negative seed from Bedrock, you have to add 4294967296 to it for it to work in the Java version .
List 12 best Minecraft Village Seeds All Platforms & Versions :
1. 3 Villagers close to each other surrounded by 10 Biomes at Spawn
Screenshot :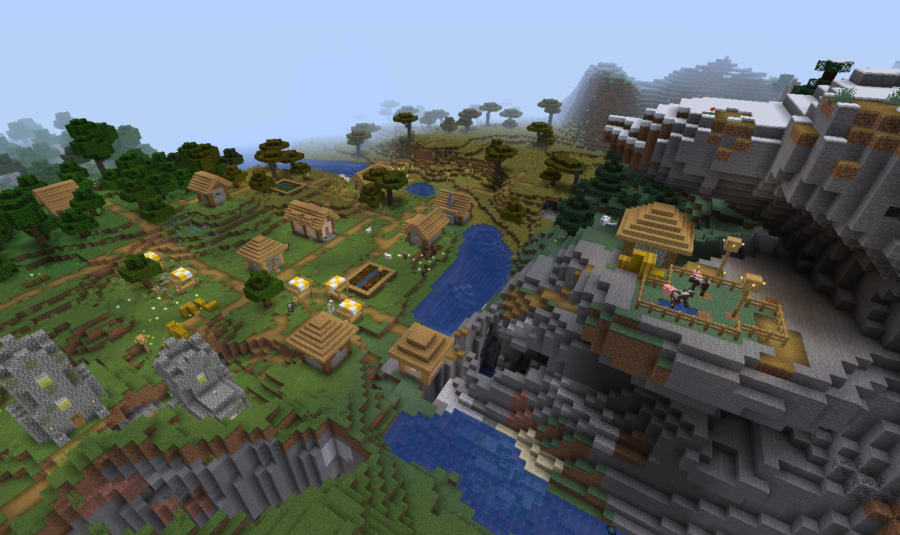 Credit:  mintymoes – Seed: -2592242360827338447 – Version: Java 1.16.4
Key Locations
Desert Temple: -200 696
Jungle Temple #1: -472 280
Jungle Temple #2: -840 8
Stronghold: -448 1360
Pillager Outpost: 308 -1004
Village & Igloo: -3232 248
Ruined Portal: 152 264
Shipwreck: 424 392
2. Village Spawn Near Coral Reef & Lots of Diamond! (Bedrock – 1.14.6)
Screenshot :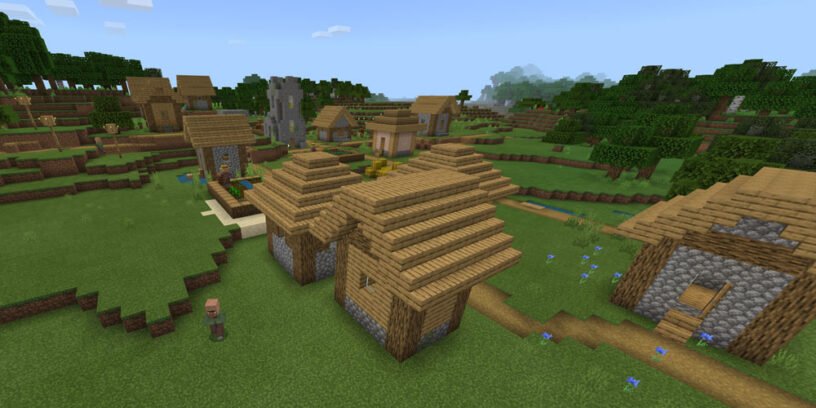 Credit: ThatOneWeebGurl – Seed: -1968925663
Key Locations
Coral Reef: 291 60 190
Swamp Biome: 310 64 6
Ravine: 319 13 57
Four Diamond: 320 11 34
Four More Diamond: 291 11 55
Eight Diamond: 289 14 30
Eight More Diamond: 278 12 66
Second Village: 219 71 -404
Haunted Village: 98 71 -703
Second Haunted Village: -207 64 -691
3. Village w/Ravine & Jungle Biome (Bedrock – 1.14.6)
Screenshot :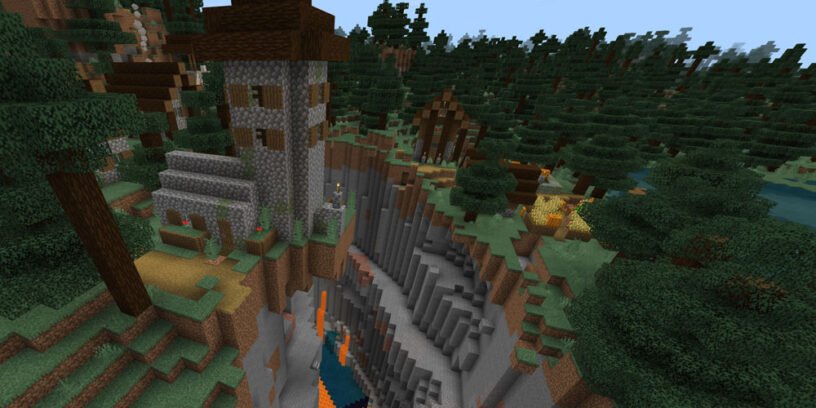 Credit: SilkySharp – Seed: 598080973
Key Locations
Village w/Ravine: -284 69 75
Diamond in Ravine: -322 11 43
Jungle Biome: -580 72 23
Village Near Jungle: -708 64 171
Jungle Temple: -794 67 112
Bamboo Jungle: -975 70 -151
Jungle Temple #2: -955 65 -463
Snow Village w/Igloos: 125 63 -342
Ice Spikes Biome: -44 72 -423
Ravine #2 w/Diamond: -149 12 -664
Igloo: -290 72 -803
4. Desert Village Near Coral Reef (Java – 1.14.4)
Screenshot :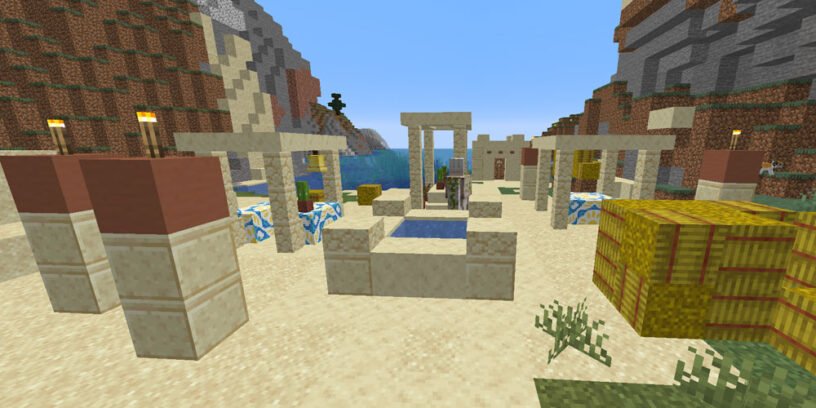 Credit: GiveMeAegis – Seed: 8081493198926661304
Key Locations
Desert Village: -143 63 1722
Coral Reef/Shipwreck: -482 63 1631
Shipwreck: -219 65 1615
Larger Desert Village: 154 75 1879
Another Large Desert Village: 151 67 2109
Pillager Outpost: 345 76 2214
Desert Pyramid: 346 65 2323
Large Mountain Village: -298 70 -337
Large Forest Village: 122 63 -737
5. Desert Village w/Pillager Outpost in a Ravine (Bedrock – 1.14.6)
Screenshot :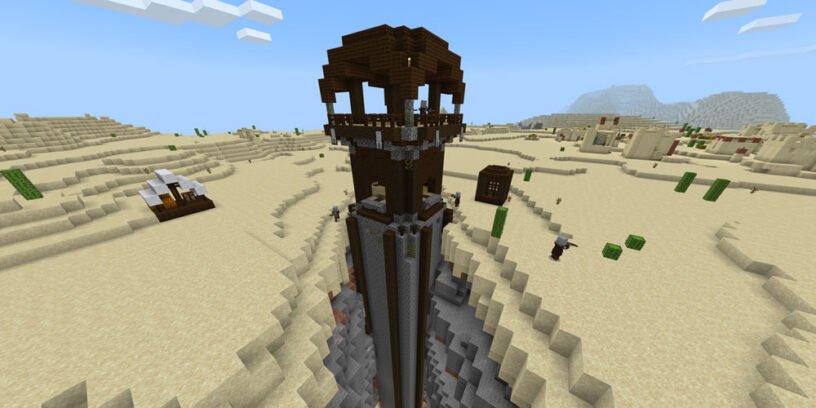 Credit: god_lifts – Seed: 616843740
Key Locations
Desert Pyramid: 1322 71 176
Haunted Desert Village: 1398 69 131
Coral Reef: 1655 55 -228
Pillager Outpost in Ravine: 488 69 487
Diamonds in Ravine: 483 13 499
Desert Pyramid: 362 65 560
Desert Village #2: 593 71 533
Haunted Desert Village #2: 128 68 534
Desert Pyramid #3: 106 65 304
6. Snow Village w/Igloos (Bedrock – 1.15+)
Screenshot :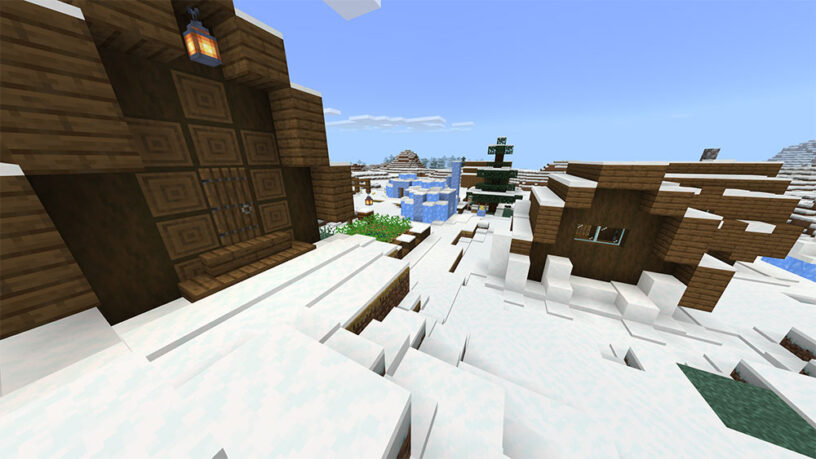 Credit: The_Spartan300 – Seed: 2001039901
Key Locations
Snow Village w/Igloos: 917 74 143
Huge Ravine w/Exposed Diamond: 906 17 14
Mineshaft in Ravine: 911 18 -3
Dungeon Spawner in Ravine: 871 17 -2
Shallow Ravine: 730 45 338
Second Snow Village: 934 73 654
7. Badlands & Giant Tree Taiga – Desert Village (Bedrock – 1.15+)
Screenshot :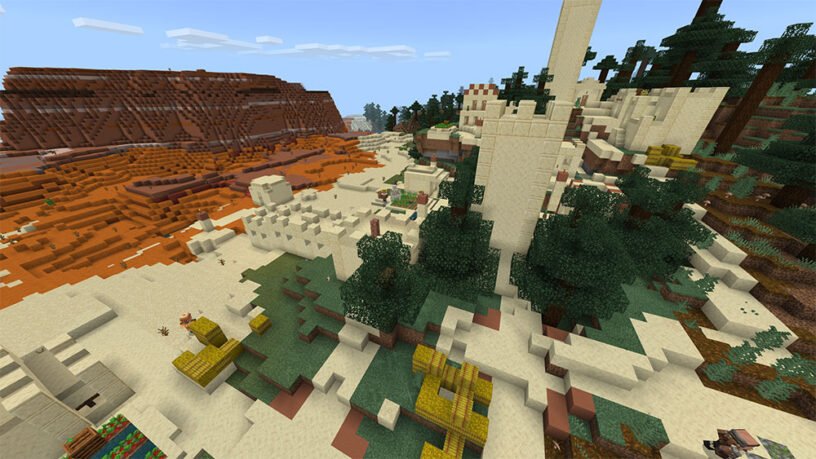 Credit: TelepathicGrunt – Seed: -954871915
Key Locations
Desert Village: 910 69 139
Ravine w/Exposed Diamond: 330 14 -553
Ocean Ruin: 20 69 -1124
Pillager Outpost: -584 77 154
Haunted Village: -644 63 226
8. Pillager Outpost, Floating Island, & Many Villages! (Bedrock – 1.14.6)
Screenshot :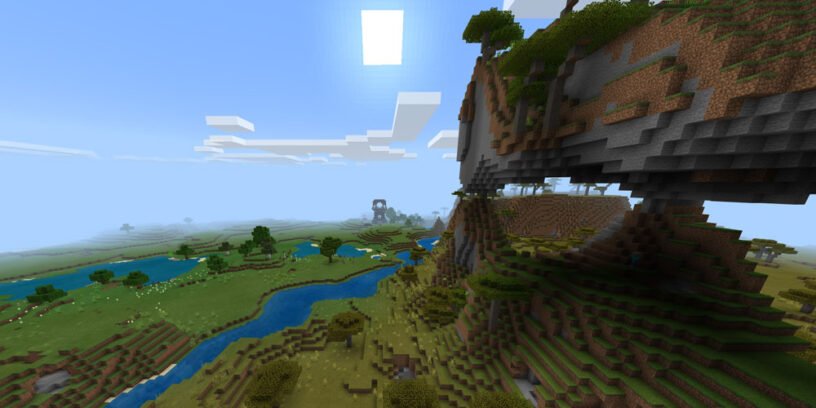 Credit: mochimachi – Seed: -741721765
Key Locations
Pillager Outpost: 263 80 103
Desert Pyramid: 314 65 16
Haunted Savannah Village: 580 63 180
Desert Village: 138 66 -285
Desert Village #2: -232 70 -312
Desert Pyramid #2: -357 74 -263
Ravine w/Diamond: -283 11 -130

More Diamond: -292 11 -109
Skeleton Spawner: -282 21 -146
9. Amazing Mountain Village (Bedrock – 1.14+)
Screenshot :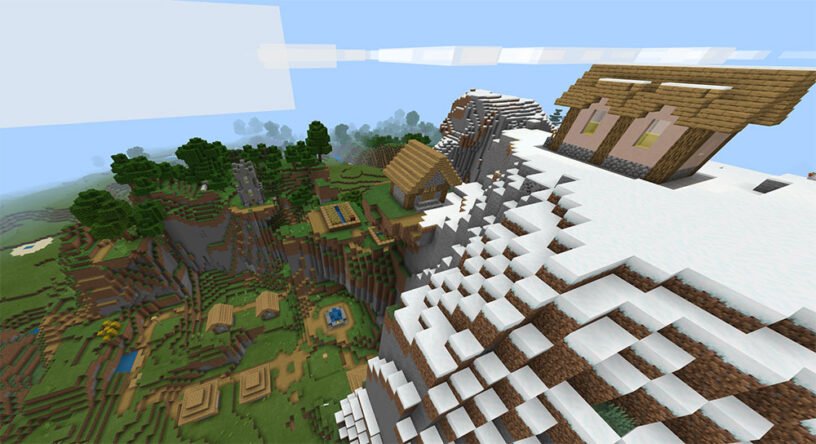 Credit: Fredrick_Zelder – Seed: -1400738501
Key Locations
Mountain Village: 943 78 -1104
Taiga Village: 165 66 585
Village w/Stronghold Underneath: 990 68 -825
Ice Spikes Biome: 1448 92 -908
10. Desert Village & Much More (Bedrock – 1.14+)
Screenshot :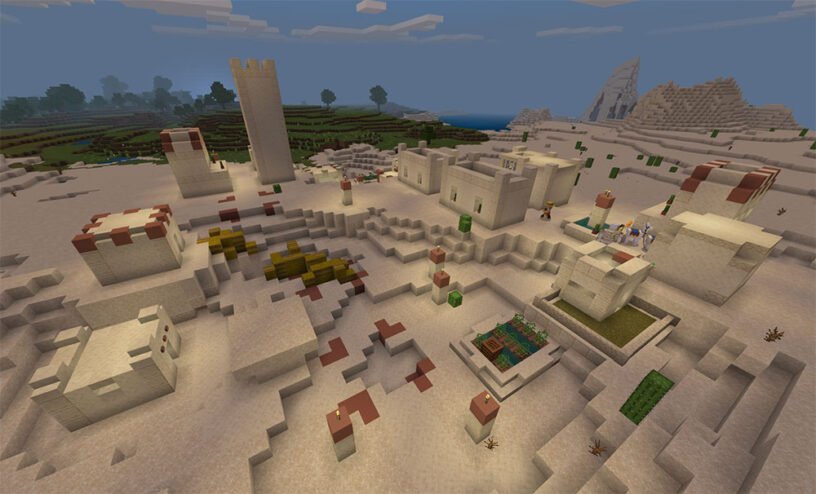 Credit: Dodriofan480 – Seed: 1961838222
Key Locations
Monster Spawner Cave Entrance: 414 60 -25

Monster Spawner: 390 44 16

Second Monster Spawner Cave Entrance: 615 64 25

Second Monster Spawner: 615 39 14

Desert Village: 535 66 522
Desert Pyramid: 251 67 878
Ravine w/Exposed Diamond: 690 14 -87
Pillager Outpost: 668 68 205
Desert Pyramid: 379 71 -354
Small Ravine w/Diamond Nearby: 297 11 -441
Larger Ravine w/Exposed Diamond (Multiple Spots): 426  12 -371
Savannah Village: 185 69 962
11. Mountain Village w/Monster Spawner (Bedrock – 1.14+)
Screenshot :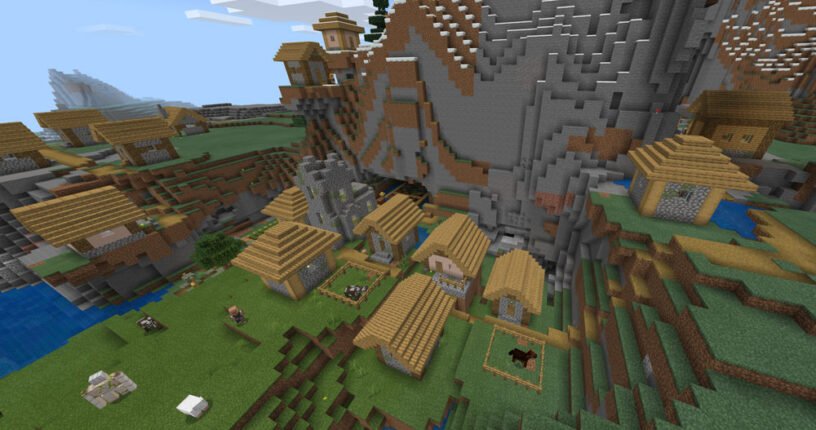 Credit: DarkAgeOutlaw – Seed: -1231267014
Key Locations
Mountain Village: -250 72 -209
Monster Spawner: -266 71 -242
Zombie Village: 180 83 -310
Large Village: -310 67 -1136
Another Large Village: -295 64 644
12. Village Island (Java – 1.14+)
Screenshot :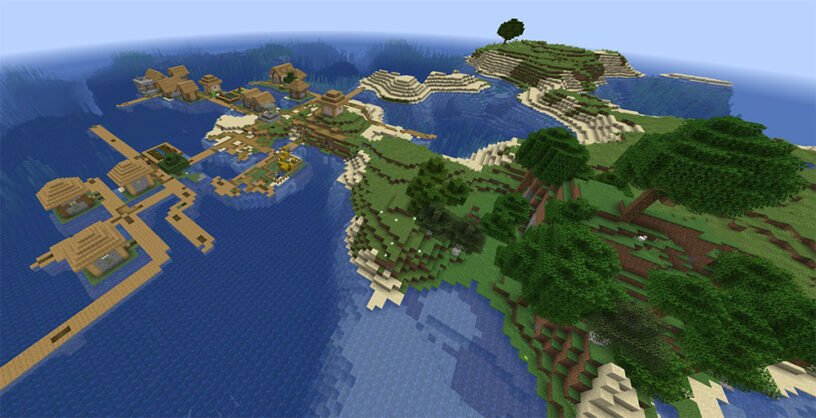 Credit: Ph3nomen0N – Seed: -772124751310384583
Key Locations
Desert Temple: -307 783 554
Desert Village w/Dungeon Spawner: -650 64 570
Forest Village: -740 70 212