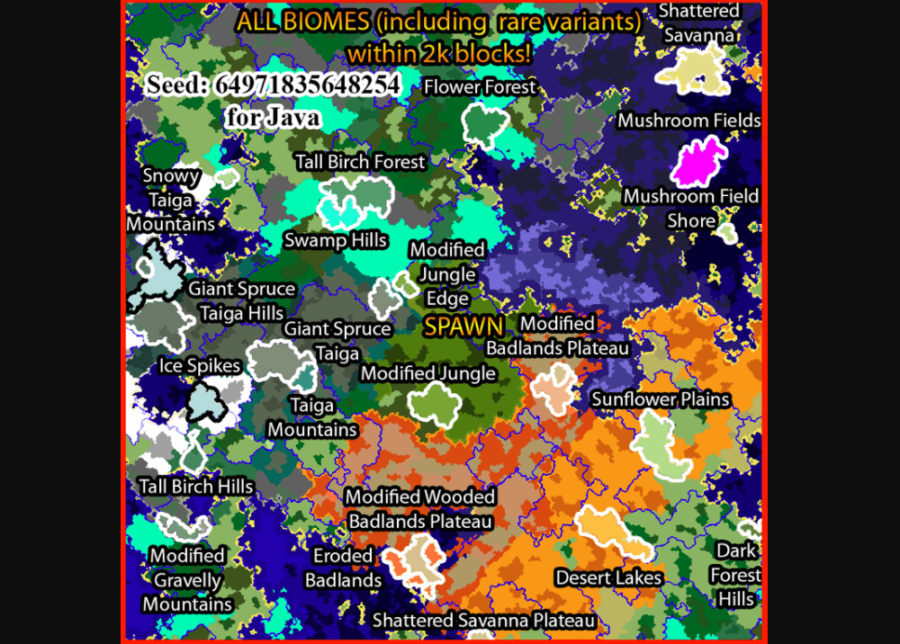 What Is A Best Minecraft Seeds 1.16.5 ?
A seed is a randomly generated number that represents a specific world that was created when you started a new Minecraft game. This seed can be used by other players to play in the exact world you are playing!
How-To Use Minecraft Seeds
Using Seeds in Minecraft is relatively simple and the process is largely the same on all versions of the game. When you are creating a new world, look for the "Other world options …" area or in some cases you will only find an empty text box where you can paste your seed code into.
List 19 Best Minecraft Seeds 1.16.5 Java & Bedrock :
1. All Biomes Near Spawn
Screenshot :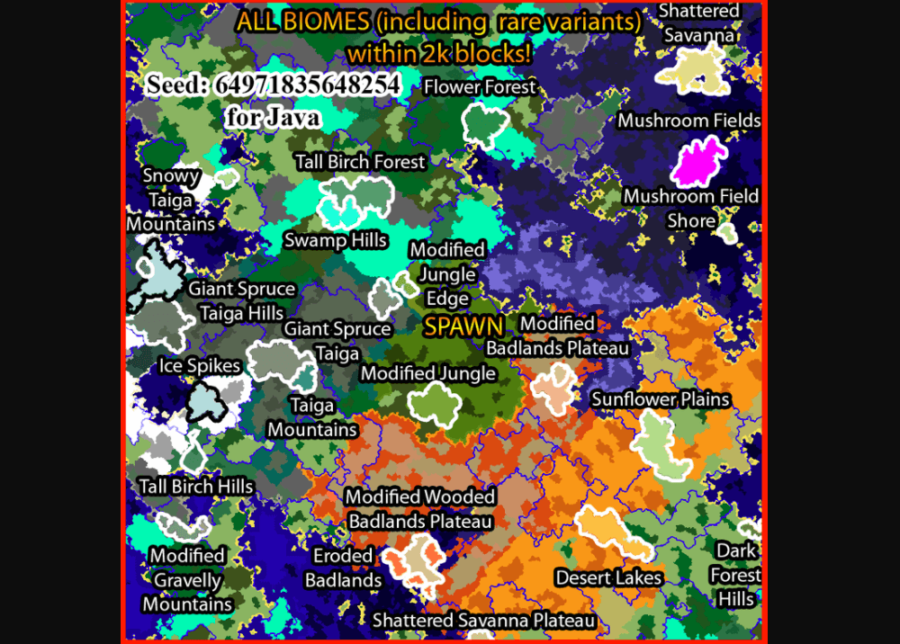 Credit: BigBrain5Head – Seed: 64971835648254 – Platform: Java
Key Locations
Jungle Temple #1: 56 80 360
Jungle Temple #2: 184 80 552
Jungle Temple #3: -408 80 360
Ocean Monument: 536 40 -280
Witch Hut: -248 70 -408
2. Beautiful Mountain Top Village at Spawn
Screenshot :
Credit: BigBrain5Head – Seed: 46663436141796529 – Platform: Java
Key Locations
Desert Temple: 152 328
Desert Temple #2: 216 -408
Desert Temple #3: 104 -744
Mushrom Biome: -1287 300
Witch Hut: 856 1112
Stronghold: -1640 -496
Ruined Portal: 136 -280
Shipwreck: -280 8
3. Savanna Village Overlapping w/Dark Oak Forest
Screenshot :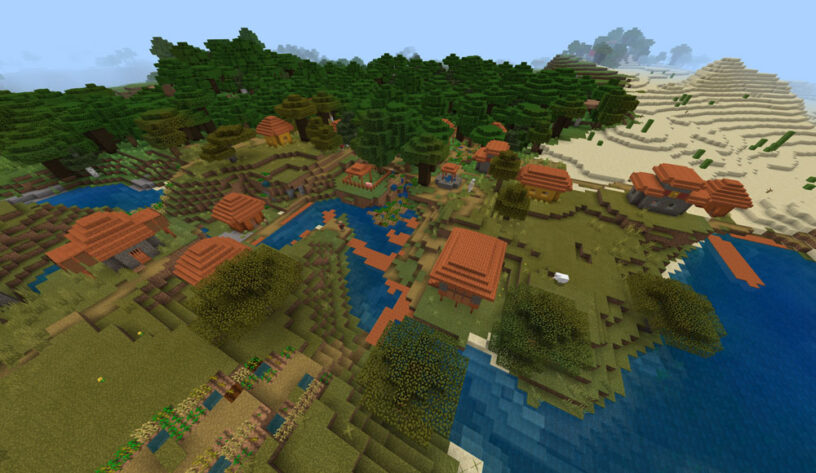 Credit: lickthaticecreamcone – Seed: -98141769 – Platform: Bedrock
Key Locations
Village Near Spawn: 162 75 108
Savannah & Dark Oak Forest: 126 68 588
Large Ravine: 130 16 518
Birch Forest Biome: 188 72 374
Pyramid: 250 65 816
Pyramid #2: 202 65 1120
Desert Village: -368 67 1278
Nether Locations
Soul Sand Valley: -11 47 -3
Ruined Portal: -643 40 485
Crimson Forest: -537 73 659
Bastion Remnant: -96 83 528
4. Many Biomes At Spawn and Huge Mesa
Screenshot :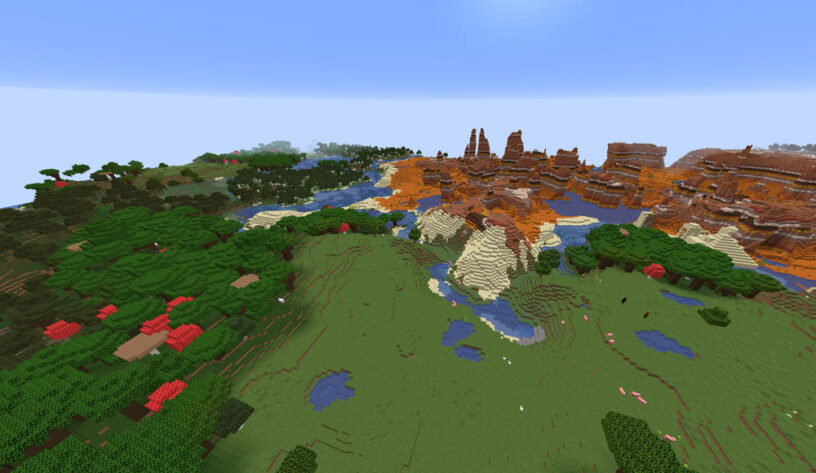 Credit: DJEvvo – Seed: 9058136630944956755 – Platform: Java
Key Locations
Swamp Biome: -119 63 123
Dark Forest Biome: -48 78 155
Ruined Portal: 38 70 347
Pyramid: 100 65 298
Mine: 195 64 244
Exposed Spider Spawner: 201 64 205
Exposed Spider Spawner #2: 195 64 179
Exposed Spider Spawner #3: 245 71 231
Village: -510 64 439
Village #2: 688 64 -186
Nether Locations
Warped Forest Biome: -75 74 57
Soul Sand Valley Biome: -799 84 238
Crimson Forest Biome: -657 39 97
Bastion Remnant: -78 91 204
Fortress: -777 61 245
5. The Badlands Monument
Screenshot :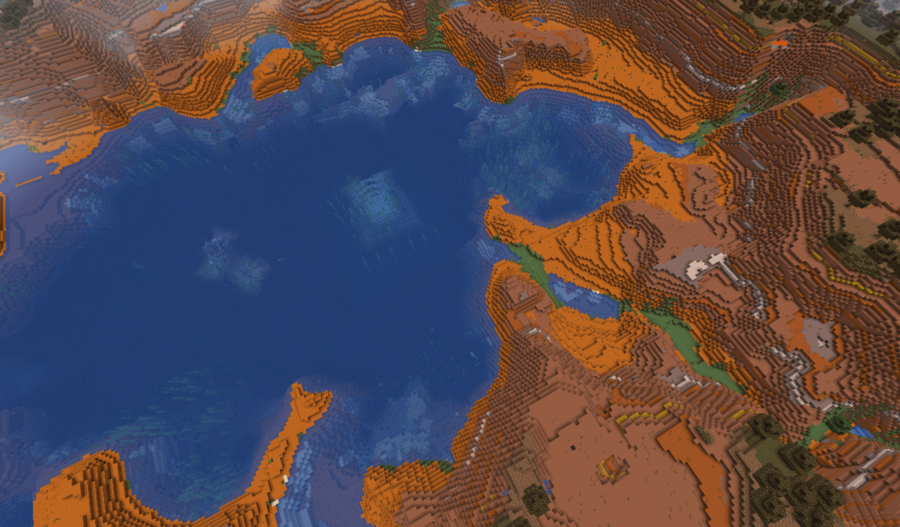 Credit: BigBrain5Head – Seed: 6106940150691661575 – Platform: Java
Key Locations
Ocean Monument: 24 40 8
Village #1: 372 80 804
Village #2: 836 80 676
Shipwreck #1: 168 40 -360
Shipwreck #2: -280 40 520
6. Four Witch Huts
Screenshot :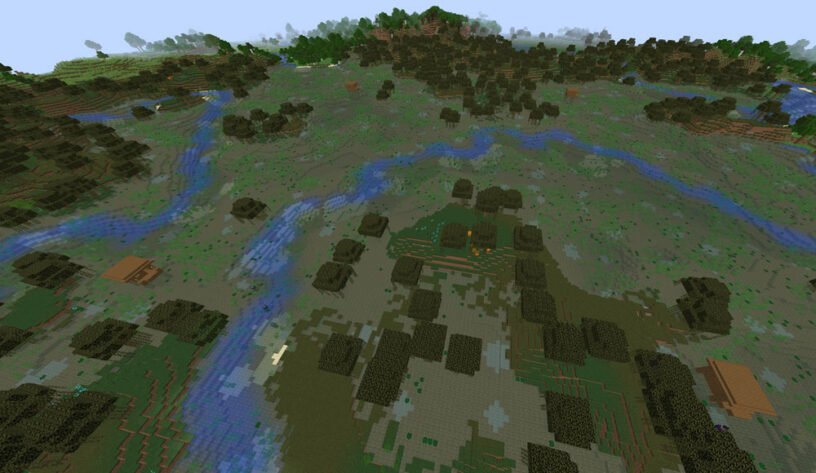 Credit: MellowZippy – Seed: 17451728208755585 – Platform: Java
Key Locations
Witch Hut #1: -140 65 -160
Witch Hut #2: 0 65 -157
Witch Hut #3: 16 65 3
Witch Hut #4: -143 65 19
Birch Forest Biome: 406 83 361
7. Woodland Mansion at Spawn
Screenshot :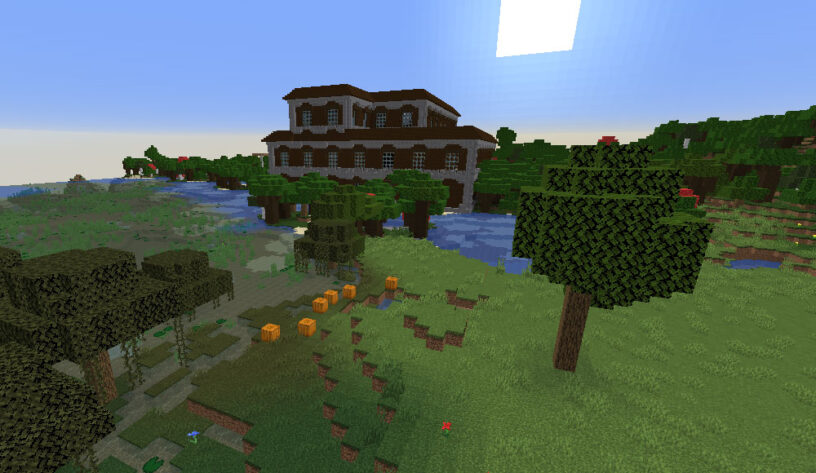 Credit: JakeyScarHand512 – Seed: 1609055592099966422 – Platform: Java
Key Locations
Woodland Mansion: 207 63 65
Flower Forest: 109 64 -89
Village: -140 62 801
Tall Birch Forest: 514 91 -81
Large Plains Village: 694 66 72
Ruined Portal: 951 64 205
Shipwreck: 979 55 228
8. Octopus Island
Screenshot :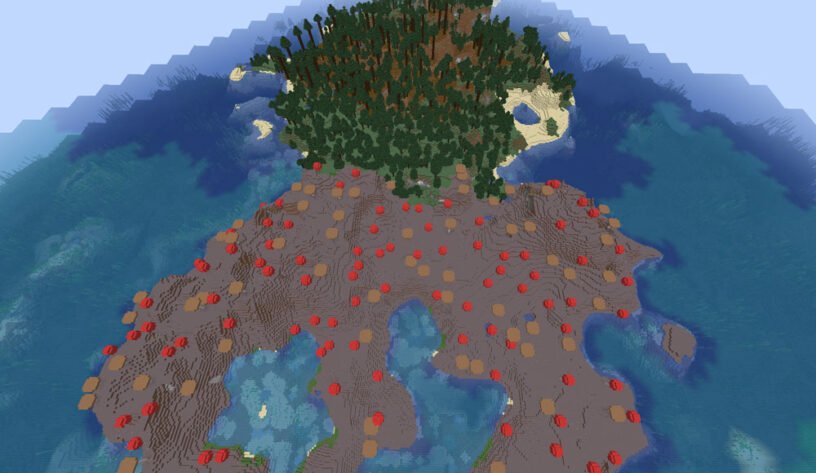 Credit: Plebiain – Seed: 2945671375784082726 – Platform: Java
Key Locations
Ravine Near Spawn: -14 64 -205
Coral Reef: 33 53 388
Swamp Biome: 546 69 389
Ocean Monument: 880 61 -322
Shipwreck: 181 53 -372
Ruined Portal: 116 51 -605
Snow Tundra Village: -835 67 -1356
9. Skinny Mushroom Island
Screenshot :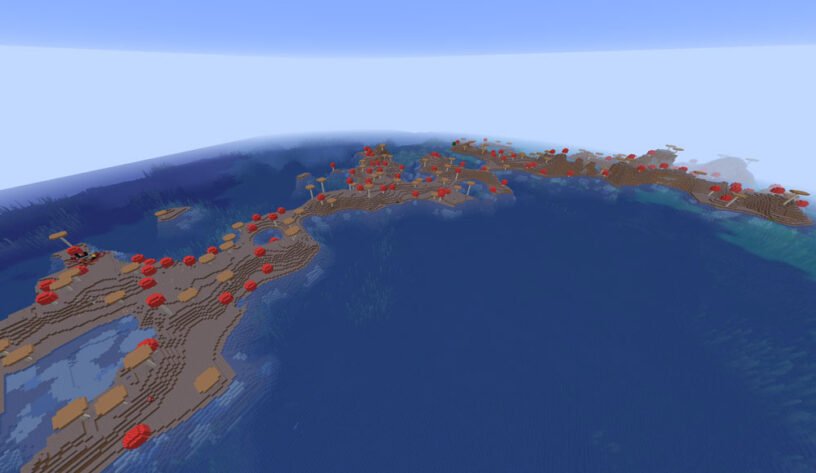 Credit: Plebiain – Seed: 2332439756294123069 – Platform: Java
Key Locations
Ruined Portal: -325 66 372
Ocean Monument: 350 61 864
Coral Reef Biome: 839 60 569
Cold Ocean Biome w/Icebergs: -582 81 640
Mountains Biome: -1102 83 563
Ruined Portal #2: -1119 73 686
Swamp Biome: -1105 64 758
Witch Hut: -1304 65 820
Shipwreck in Iceberg: -1420 72 947
Pyramid: -1509 74 1226
Desert Mountain Village: -1779 89 1325
Savanna Biome: -1801 64 1492
Desert Village #2: -1850 63 1757
10. Quadument Mansion
Screenshot :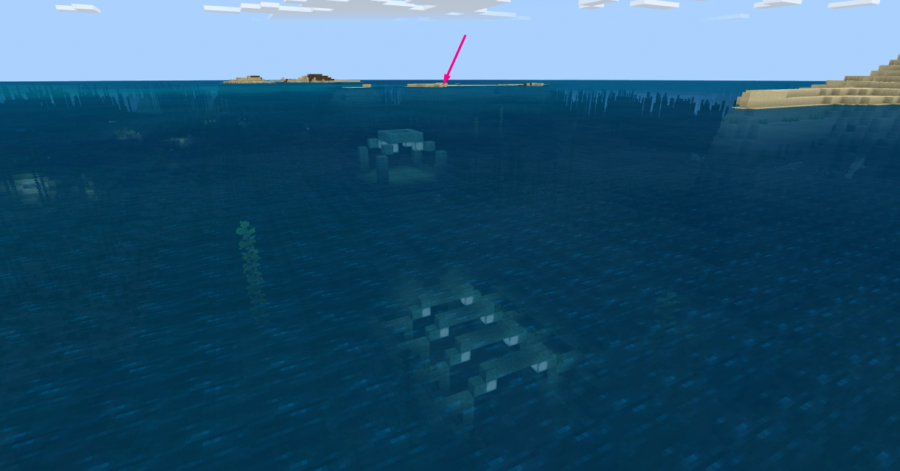 Credit:
Key Locations
Ocean Monument #1: 215 40 -250
Ocean Monument #2: 685 40 -170
Ocean Monument #3: 170 40 -115
Ocean Monument #4: 600 40 100
Woodland Mansion #2: 480 85 -1060
11. The Pillager Challenge
Screenshot :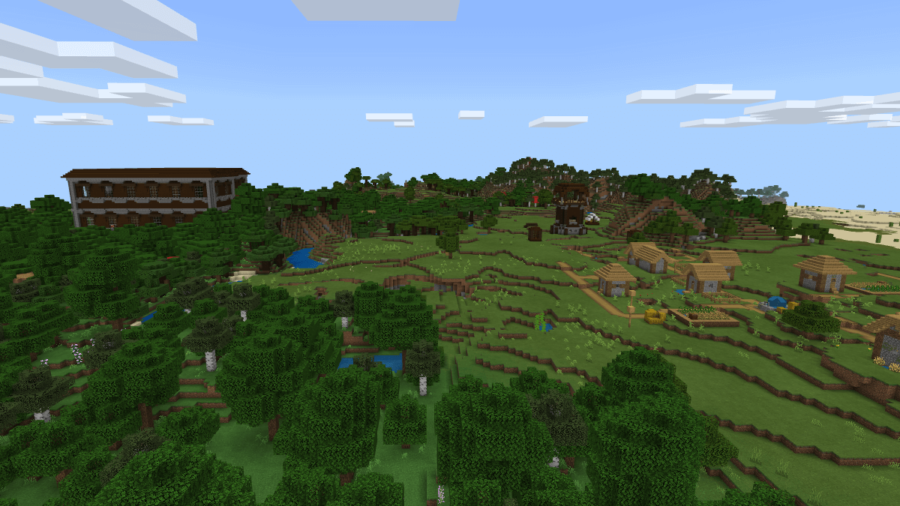 Credit: Flamewaker4848 – Seed: 1613434103 – Platform: Bedrock
Key Locations
Village Near Spawn: 1060 80 460
Woodland Mansion: 1660 80 330
Pillager Outpost: 1480 80 350
Stronghold: 1630 1040
Ocean Monument: -310 -660
12. Ocean Monuments Galore
Screenshot :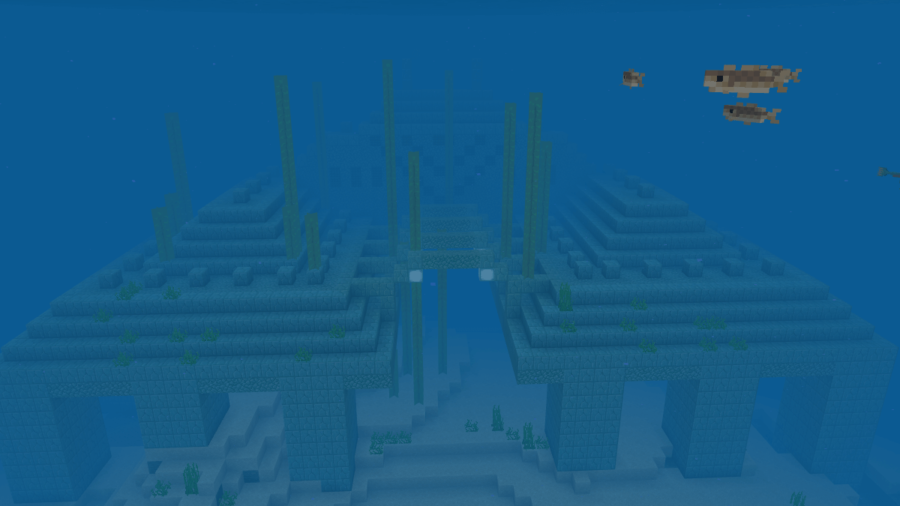 Credit: Girly-Gamer – Seed: -1113465022 – Platform: Bedrock
Key Locations
Ocean Monument #1: 140 40 -380
Ocean Monument #2: 340 40 215
Ocean Monument #3: 240 40 735
Ocean Monument #4: -780 40 60
Ocean Monument #5: 200 40 -840
13. A Gorgeous Start
Screenshot :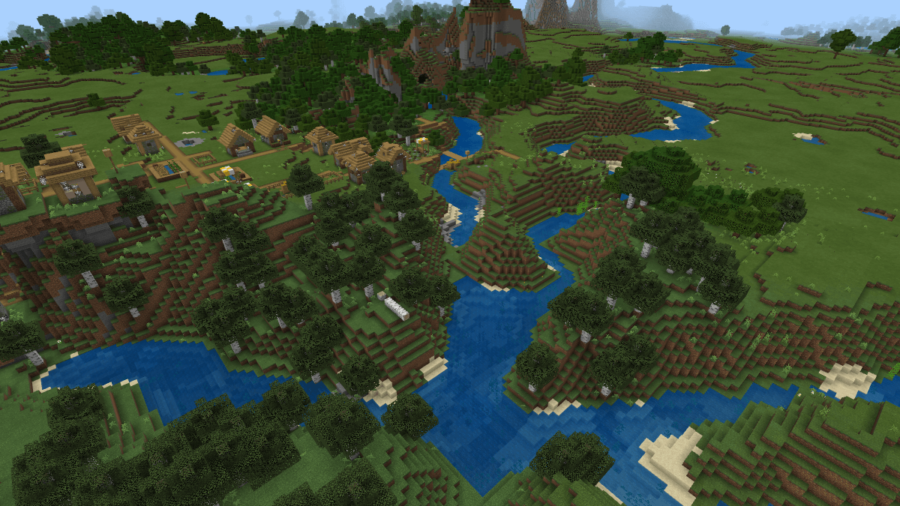 Credit: MinecraftChill– Seed: 1487266664 – Platform: Bedrock
Key Locations
Village: 225 80 -750
Stronghold #1: -770 -660
Stronghold #2: -1250 -770
Pillager Outpost: -980 80 -870
Desert Temple: -480 80 120
14. Village Near Mushroom Island, Surrounded by Ice
Screenshot :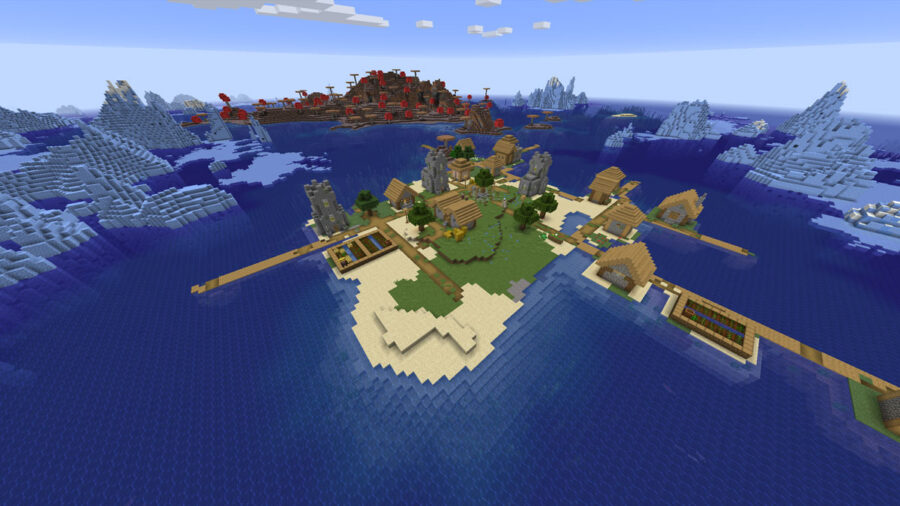 Credit: Plebiain – Seed: -376042977865450385 – Platform: Java
Key Locations
Savanna Biome: -240 66 832
Pyramid: -182 65 1263
Desert Village: -184 67 1358
15. Three Smiths' Island
Screenshot :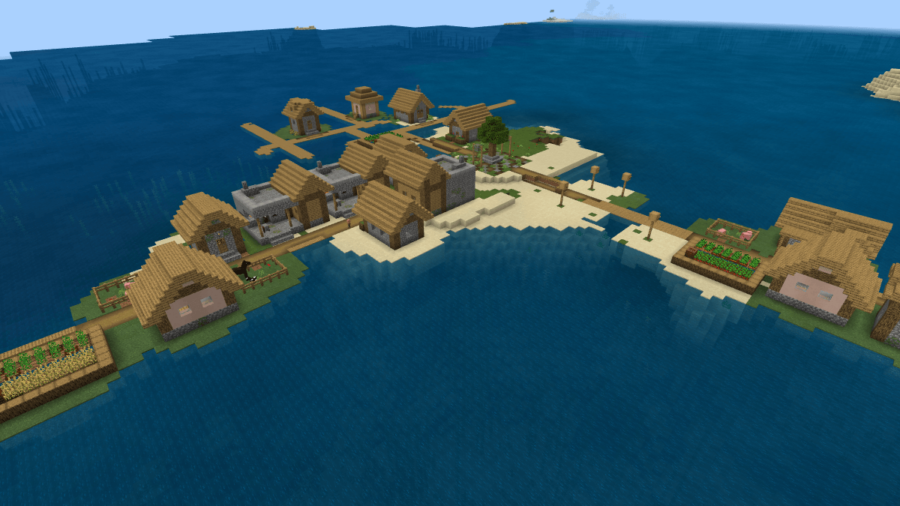 Credit: my_nintendo_broke – Seed: 542630838 – Platform: Bedrock
Key Locations
Village #1: -740 80 -730
Village #2: -410 80 -1060
Village #3: -1200 80 -380
Stronghold: -1200 -370
Desert Temple: -1450 80 -420
16. Desert Village Surrounded by Biomes
Screenshot :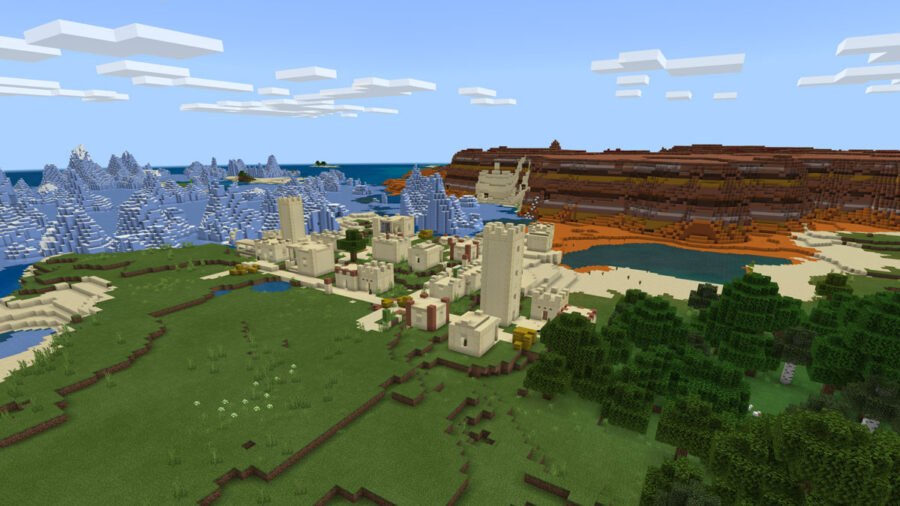 Credit: Iuketheblaze – Seed: -807569075 – Platform: Bedrock
Key Locations
Desert Village w/Biomes: -249, 68, -273
Mine: -134, 71, -284
Pillager Outpost: -424 78 372
Taiga Village: -287 65 548
Ruined Portal: -454 69 950
Village: -280 67 981
17. Natural Sculpture
Screenshot :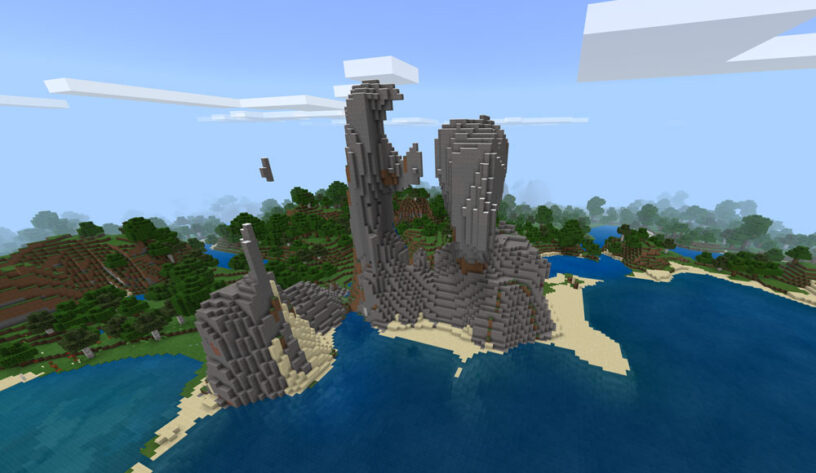 Credit: KarotBoi – Seed: -1709005712 – Platform: Bedrock
Key Locations
Sculpture Formation: 1117 79 -320
Three Land Based Ocean Ruins: 986 66 185
Ruined Portal: 826 67 -275
Birch Forest Near Ice Bergs: 513 70 -376
Swamp Biome: 450 63 -956
Village: 124 71 -767
Pyramid: -256 69 74
Pillager Outpost: 1501 85 378
18. Hillside Savanna Village
Screenshot :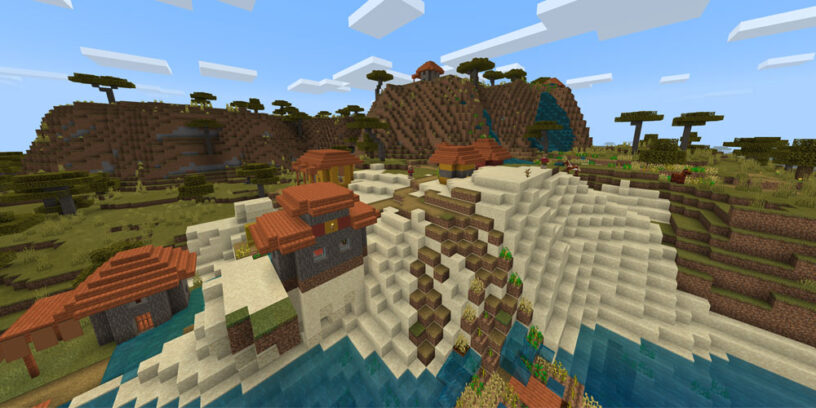 Credit: NDV Games – Seed: 1486378202 – Platform: Bedrock
Key Locations
Haunted Village: 549 71 96
Ruined Portal: 354 77 86
Hillside Savanna Village: -294 74 570
Desert Village: -819 64 445
Pillager Outpost: -887 77 249
Ruined Portal in Mountain Biome: 292 82 -557
Swamp Biome: 735 63 -931
Ruined Portal in Swamp: 817 64 -1028
Desert Village #2: 1494 63 -1163
19. Double Blacksmith Near Coral Reef
Screenshot :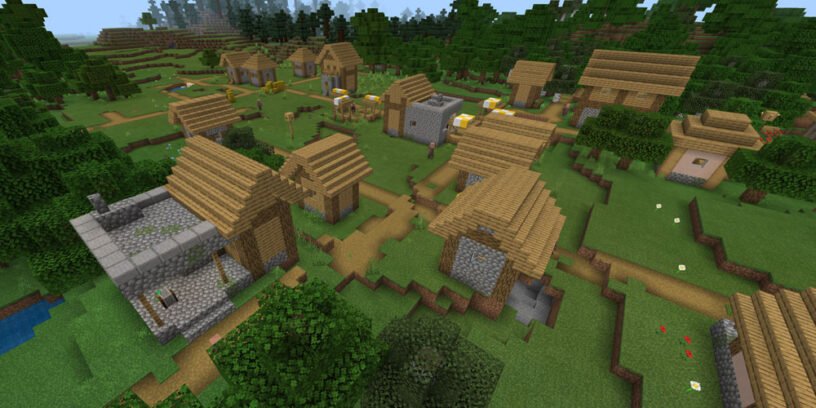 Credit: MKR Cinema – Seed: 1792133092 – Platform: Bedrock
Key Locations
Village w/Double Blacksmith: 539 66 137
Mountains Biome: 820 115 -413
Snow Taiga Village: 974 69 -691
Coral Reef Biome: 461 63 3
Snow Biome: 191 66 0
2 Ocean Ruins: 3 65 239
Haunted Snow Village: -221 71 150
Igloo: -370 69 157